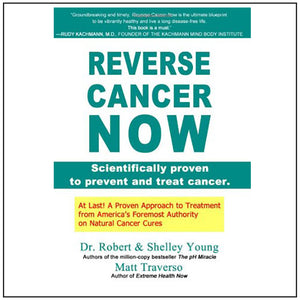 REVERSE CANCER NOW: Scientifically proven to prevent and treat cancer
Dr. Robert O. Young
(Collectible Item-out of Print)
Dr. Robert Young has helped thousands of people all over the world heal their cancers. This easy-to-read treatment guide could save your life. It illustrates a simple and natural way to control, manage and actually cure cancer from your life and those you love. This breakthrough methodology, developed by world renowned scientist Dr. Robert O. Young, has been a long time coming, and has already been used successfully for thousands of cancer patients. Reverse Cancer Now reveals a scientific, clinically proven natural therapy for curing cancer and creating optimal health. It is also the secret that both the American pharmaceutical industry and the medical establishment don't want you to know. That's because this powerful and effective program for virtually all forms of cancer threatens the livelihood and the trillion-dollar earnings of the pharmaceutical and health care industries—not to mention the medical centers and physicians that make a great living from providing expensive drugs, complex medical procedures and long hospital stays. The information you will discover in this book represents the biggest threat to the revenues of the pharmaceutical and medical industries—a bigger threat than all the alternative healing therapies, nutritional supplements and natural products COMBINED.
"Cancer deaths are at an all-time high, and most conventional cancer treatments are tragically ineffective. Reverse Cancer Now will provide you with a valuable perspective that you will likely not hear about from your doctor." —Michel Kahaleh, MD, Professor of Clinical Medicine
TAKE BACK YOUR HEALTH NATURALLY — WITHOUT DRUGS AND SIDE EFFECTS!

Reverse Cancer Now does not 'hope' for your body to go into remission. It takes you well past that stage into vibrant and strong health. This book is not about remission. It is about a cure.

By following the program outlined in Reverse Cancer Now, you will:
Discover how to treat cancer safely, effectively, and naturally understand the underlying root causes of cancer Realize why common medical interventions can do more harm than good boost you immune system and activate you body's natural healing powers learn effective nutrition strategies and life style modifications to help you create optimal health and reverse cancer and a host of other disease Identify unhealthy, disease-promoting behaviors take ownership and control of your health and future burn fat and lose weight permanently without ever going on a diet restore your energy, vitality, and perfect health.
"With the knowledge of Reverse Cancer Now in your hands you can change your destiny, you can cancer-proof your body and escape the devastation of medical intervention." —Roy Martina, MD, World-Renowned Medical Doctor
____________
Testimonials

 "In my opinion "Reverse Cancer Now" book can make a real difference in preventing this terrible plague. It would be great if this information became part of today's lifestyle and diet. I am from the Mediterranean diet and I realize that there are still changes we need to make to improve our overall health and well being. -- Carmelo"

 "Reverse Cancer Now is great book to tell people how to prevent or reverse cancer - like I've reversed my acodis-caused MS. -- Dwan"

 "Reverse Cancer Now book tells the cause of cancer, so definitely got a way to solve the problem. This a the future of our mankind. -- Cathy N. Z."