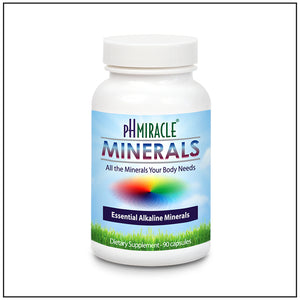 pH Miracle® Minerals
90 capsules
Nature has a perfect balance of macominerals, microminerals, and ultra trace minerals in the most readily usable and bioavailable form known. These foundational building blocks, found 2,000 feet below the oceans surface, are rich in glacial milk and are free from herbicides, pesticides and heavy metal contamination. They are essential for metabolism, building tissues, and maintaining the pH balanced environment of the body. 

98% of Americans are deficient in mineral and trace elements. pH Miracle Minerals contain all trace elements and minerals that will help enable every molecule in your body to have its correct molecular structure. 

Supplement Facts:

Serving Size: 1 capsule

Servings Per Container: 90 capsules

Suggested Use: 3-6 Capsules daily with meals

Value
Calcium
Potassium
Magnesium Chelate
Proprietary Trace Mineral Blend
B, Ba, Be, Bi, Br, Cl, Co, Cr, Cu, Dy, Er, Eu, Fe, Gd, Ga, Fo, I, In, La, Li, Lu, Mn, Mo, Na, Nd, Ni, P, Pr, Pt, Re, Rh, S, Sb, Sc, Se, Si, Sm, Sn, Ta, Te, Tb, Ti, Tm, V, W, Zn
.
* These statements have not been evaluated by the Food and Drug Administration. This product is not intended to diagnose, treat, cure, or prevent any disease. Consult your licensed physician or medical practitioner before

 

using any products, especially if you are taking any drugs or if you are pregnant or nursing. Protect from heat and light. Store out of reach of children.