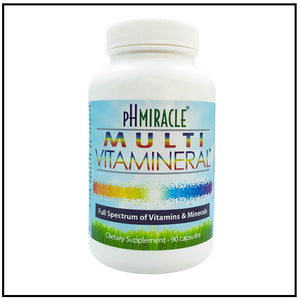 pH Miracle® Multi-VitaMineral 
Full Spectrum Of Vitamins And Minerals

pH Miracle Multi Vitamineral

90 capsules

Suggested Use:
Adults - 1-3 capsules with meals, 4-6 times/day

Children - 1 capsule with meals, 1-2 times a day

pH Miracle Multi-VitaMineral is a unique formulation containing a full spectrum of vitamins and minerals. It has essential trace minerals, a unique blend of herbs, and all 12 cell salts. This original formulation by Dr. Young is the perfect way to ensure your body gets the vital vitamins and minerals it needs.
Multi-Vitamineral Proprietary Blend

 

948.4 mg
Rice Protein, Alfalfa, Parsley, Dandelion, Yellow dock, Kelp, Beet (root), Rufin, Bioflavonoids, PABA (para-aminobenzoic acid), Inosilol, Choline, Wheat Bran, Rosehips (herb), Parsley (root), Comfrey (root).

| | |
| --- | --- |
|  Cell Salt Proprietary Blend | 15 mg |
Calcium Phosphate, Calcium Sulfate, Iron Phosphate, Potassium Chloride, Potassium Phosphate, Potassium Sulfate, Magnesium Phosphate, Sodium Chloride, Sodium Phosphate, Sodium Sulfate. 
Other Ingredients: vegetable cellulose, water
| | | |
| --- | --- | --- |
| Supplement Facts | Amount Per Serving | % Daily Value |
| Vitamin A | 5,000 IU | 100% |
| Vitamin C | 100 mg | 167% |
| Vitamin D | 30 IU | 8% |
| Vitamin E | 50 IU | 167% |
| Thiamin (Vitamin B1) | 20 mg | 1333% |
| Riboflavin (Vitamin B2) | 20 mg | 1176% |
| Niacin | 20 mg | 100% |
| Vitamin B6 | 24 mg | 1200% |
| Folate | 400 mcg | 100% |
| Vitamin B12 | 146 mcg | 2433% |
| Biotin | 171 mcg | 57% |
| Pantothenic Acid | 20 mg | 200% |
| Calcium | 102 mg | 10% |
| Iron | 10 mg | 53% |
| Iodine | 112 mcg | 75% |
| Magnesium | 9 mg | 2% |
| Zinc | 4 mg | 27% |
| Selenium | 30 mcg | 43% |
| Copper | 0.025 mg | 1% |
| Manganese | 3 mg | 150% |
| Chromium | 202 mcg | 168% |
| Potassium | 4.8 mg | 0.1% |