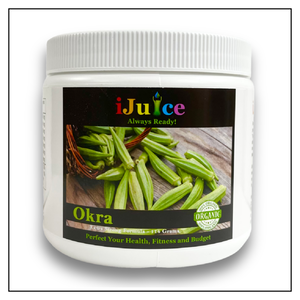 iJuice Okra
Okra (Abelmoschus esculentus) provides essential nutrients for your body and helps support overall health and wellness.
It's rich in vitamins & minerals and is loaded with antioxidants.
This product contains Vitamins A, B1, B2, B3, C and E which help to promote overall health.
It also contains calcium which may help maintain bone health.
Okra, a high fiber supplement, is packed with antioxidants. These antioxidants help protect the body from free radicals, which can cause cellular damage in the body. Due to high contents of antioxidants, this extract may help support overall wellness. 
Okra is high in insoluble fiber, which is essential for maintaining healthy digestion. Fiber helps to bulk up your stool and promotes waste movement through your intestines. This can help prevent constipation and other digestive issues like bloating and gas.
Heart Health - Okra has been used traditionally to help support healthy cholesterol levels already within normal range in conjunction with nutritious diet and exercise. It may also contribute to heart and cardiovascular health.
Helps with weight loss
Unlike most fruits and vegetables, okra is low in calories and high in protein.
Okra contains mucilage, a type of soluble fiber that aids in cholesterol reduction. Mucilage binds to bile acids in the digestive tract and transports them out of the body, forcing the liver to use colesterol to produce more bile acids. This procedure can aid in the reduction of total cholesterol levels.
Okra is high in antioxidants, which are compounds that help prevent cell and DNA damage by neutralizing harmful free radicals. This can help to reduce the risk of cancer cell development. Okra also contains lectins, which are proteins that have anti-cancer properties. Lectins have the ability to inhibit cancer cell growth and induce apoptosis, or programmed cell death, in cancer cells.
Okra has a high fiber content, which can aid in the growth of beneficial gut bacteria. A healthy gut microbiome is necessary for a robust immune system. Okra is also high in vitamin C, which helps the body produce white blood cells to fight infections, and high in antioxidants such as polyphenols and flavonoids, which help to protect cells from damage and support the immune system.
Because okra contains soluble fiber, which slows the absorption of sugar from your intestines, it helps to prevent blood sugar spikes and promotes more stable blood sugar levels, as well as preventing diabetes.
Okra is a great moisturizer for dry and itchy scalps, leaving hair soft, bouncy, and shiny. Vitamin C, which is present in okra, helps in tissue repair and preserves the appearance of young skin. This, in turn, helps to keep your skin younger and more vibrant.
Okra has anti-oxidative and anti-inflammatory properties that may help treat anti-neuroinflammatory diseases like Alzheimer's and Parkinson's, which are mediated by microglial cells.
Okra is high in Vitamin A and beta-carotene, both of which are antioxidants that can help prevent age-related vision problems like Macular Degeneration and Cataracts. The presence of vitamins A and C in okra also helps to support healthy tissues in the eyes and mucous membranes, protecting against health problems associated with eye infections.
Okra is a great source of calcium and vitamin K, which can protect against osteoporosis and slow down bone loss. In fact, according to reports, okra hydrocolloids have the potential to serve as a foundation for the development of prosthetics and scaffolds for bone and cartilage engineering.
Okra is a high-nutritional-value vegetable with numerous health benefits. It is high in antioxidants, vitamins, and minerals, all of which can help with digestion, immunity, and overall health. If you haven't tried okra yet, think about including it in your meals as a tasty and nutritious addition to your diet.
.
* These statements have not been evaluated by the Food and Drug Administration. This product is not intended to diagnose, treat, cure, or prevent any disease. Consult your licensed physician or medical practitioner before

 

using any products, especially if you are taking any drugs or if you are pregnant or nursing. Protect from heat and light. Store out of reach of children.
I​f you are tired of juicing and clean-up afterward, if juicing is very time consuming, if organic grasses, sprouts, fruit and vegetables are too expensive, we present iJuice - the most concentrated package of fruit and vegetable juice powders on the market, EVER!
Our organic iJuice powders are derived from real vegetables, grasses, fruits and berries and give you real, delicious and refreshing juice, packed with vitamins, minerals and antioxidants.

iJuice is also wonderful for cooking, baking, sauces, smoothies or just stirring a little with purified or alkaline water for a delicious glass of refreshing juice.
All of our products are Organic, Vegan, Gluten Free, Non-GMO and Do Not contain dairy, preservatives, additives, artificial colors, flavors, fillers, added sugars or artificial sweeteners.
With so many different varieties of juices, we guarantee that you will find a flavor to love and enjoy!
.
.