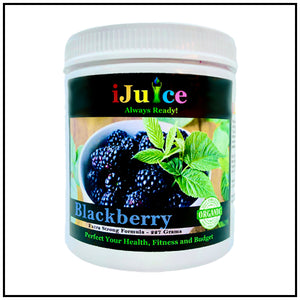 iJuice Blackberry
Ten Health & Fitness  Benefits of iJuice Blackberry
Health benefits of iJuice Blackberry Health & Fitness juice include better digestive health, strengthened immune defense, healthy functioning of heart, prevention of cancer and relief from endothelial dysfunction.  Blackberry provides cognitive benefits and aids in enhancing memory, weight management, keeping the bones strong, healthy skin, improved vision and disease-free eyes, normal blood clotting and may also serve as a valuable food during pregnancy owing to an impressive gamut of healthful nutrients.
iJuice Blackberry juice is a delicious and versatile fruit, belonging to the Rubus genus in the Rosaceae family which also includes raspberry and dewberry. Native to the Northern temperate areas of the globe, blackberry has been honored as the official fruit of the state of Alabama and is found copiously in North America and Pacific coast. Ancient cultures perceived blackberry plant as a weed or a wild plant yet its medicinal history spans back to more than 2000 years. History reveals the traditional usage of blackberry fruit, leaf, bark and roots by the Romans and Greeks for healing numerous health conditions ranging from a mild infection to venomous bites. In fact, during the 18th century the Greek cure of using blackberry for treating gout was so influential in Europe that it was famously known as the 'gout berry'. Recent scientific evidences have contributed extensively in unearthing the therapeutic potential of blackberries and its worldwide consumption.
The Blackberry plant has a biennial erect or partially erect stem with sharp spikes and dark green leaves with clusters of pinkish-white blossoms. It yields purple black aggregate fruit which comprises of multiple smaller fleshy segments or drupelets.
Nutritional Value of iJUice Blackberry Health & Fitness Juice
Blackberries are tasty and nutrient dense fruit which stores a fine range of nourishing components. Vitamins provided byblackberries include vitamin A, vitamin B1 (thiamine), vitamin B2 (riboflavin), vitamin B3 (niacin), vitamin B6, folate, vitamin C (ascorbic acid), vitamin E (alpha-tocopherol) and vitamin K (phylloquinone). Mineral wealth of blackberries include calcium, iron, magnesium, phosphorous, potassium and zinc. Blackberries are also a good source of amino acids and essential dietary fiber without offering any harmful fats.
Health Benefits of iJuice Blackberry
Benefits of iJuice Blackberry which provides respite in various health conditions have been discussed as under:
1. Antioxidant potential: iJuice Blackberry contain a profuse amount of powerful antioxidant which protects the body in multiple ways. Components such as phenolic acids, flavonoids and flavonols particularly anthocyanosides present in blackberries work against the harmful oxygen free molecules and counteract their action. This protective radical scavenging activity protects the body from a range of diseases caused as consequence of oxidative damage which may be the underlying cause of many fatal conditions.
2. Defense against endothelial dysfunction: iJuice Blackberry provides protection against the endothelial dysfunction which is characterized by the abnormal functioning of inner lining of blood vessels. As suggested by scientific studies, it contains useful components such as cyaniding-3-O-glucoside which fights the oxidative activity and helps in the normalizing multiple critical factors implicated in such conditions. It helps in reducing the DNA damage and guards against vascular failure.
3. Cognitive benefits: iJuice Blackberry also extends its beneficial effect in improving the cognitive functions of the body. Research studies have suggested that polyphenolic components present in blackberries help retard the age-related decline in motor and cognitive activity attributing to their super antioxidant power. Regular consumption of blackberry may prove useful in enhancing the memory performance and improves behavioral and neuronal functions.
4. Improved digestive health: iJuice Blackberry are a source of both insoluble and soluble fiber essential for the optimum functioning of digestive system. Insoluble fiber in blackberries encourages easy and better absorption of water in the large intestine and adds bulk to the stools. This aids in regular bowel movements, freedom from constipation and apt digestive health.
5. Healthy heart: Richness of flavonols such as anthocyanins in blackberries makes it a heart friendly fruit. Other useful components such as magnesium and fiber content present in blackberries prevent the arteries from getting blocked and stimulates smooth blow of blood. This reduces the risk of various heart diseases such as stroke, atherosclerosis and maintains cardiovascular health. Magnesium content in blackberries also helps in regulating the blood pressure and prevents cardiac arrhythmia and irregular contraction.
6. Immunity booster: Blackberries help in improving the immune system of the body attributing to the presence of phytoestrogens, vitamins and minerals. Regular consumption of blackberries helps fight various pathogens and protects from body from infections and other fatal illnesses.
7. Aids in weight management: Owing to very low amounts of sugar, blackberries assist in healthy weight management. Effective cleaning of the bowels owing to the fiber content in blackberries and very few amounts of calories makes it an excellent snack during the weight loss attempts.
8. Healthy bones: iJuice Blackberry contains vital minerals such as magnesium and calcium which are essential for maintain healthy bones. Calcium strengthens the bones and magnesium content in the blackberries facilitates the absorption of calcium and potassium in the body. In addition to this, phosphorus mineral present in blackberries aids in regulation of calcium and assists in building strong bones and contributes in proper cellular functioning.
9. Skin care: iJuice Blackberry can serve you as a delicious aid in maintaining beautiful skin. It is packed with multiple skin friendly nutrients like vitamin C, vitamin E and other potent antioxidants. Vitamin E present in blackberry helps in maintaining the health of skin fats and prevents the skin from wrinkles.
10. Healthy eyes: iJuice Blackberry is useful for maintaining healthy eyes. Regular consumption of blackberries helps in protecting the eyes from ultra-violet radiations attributing to the presence of lutein. Lutein forms protective pigment in the area behind the retina, also known as macula and prevents it from the damage caused by oxidative stress and high wavelength light radiations. 
.
* These statements have not been evaluated by the Food and Drug Administration. This product is not intended to diagnose, treat, cure, or prevent any disease. Consult your licensed physician or medical practitioner before

 

using any products, especially if you are taking any drugs or if you are pregnant or nursing. Protect from heat and light. Store out of reach of children.
I​f you are tired of juicing and clean-up afterward, if juicing is very time consuming, if organic grasses, sprouts, fruit and vegetables are too expensive, we present iJuice - the most concentrated package of fruit and vegetable juice powders on the market, EVER!
Our organic iJuice powders are derived from real vegetables, grasses, fruits and berries and give you real, delicious and refreshing juice, packed with vitamins, minerals and antioxidants.

iJuice is also wonderful for cooking, baking, sauces, smoothies or just stirring a little with purified or alkaline water for a delicious glass of refreshing juice.
All of our products are Organic, Vegan, Gluten Free, Non-GMO and Do Not contain dairy, preservatives, additives, artificial colors, flavors, fillers, added sugars or artificial sweeteners.
With so many different varieties of juices, we guarantee that you will find a flavor to love and enjoy!
.
.