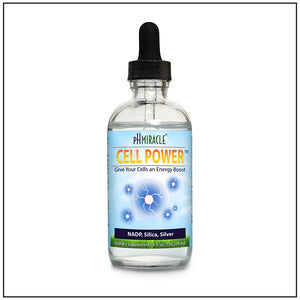 pH Miracle® Cell Power
Boosts Overall Energy
Helps With Concentration, Stamina, Drive & Alertness. 

CELL POWER
by pH Miracle
4 Fl. Oz. (118.28ml)

Description: This colloidalized form of NADP provides a direct supplemental source of energy for your cells.

CELL POWER contains no yeast, dairy, egg, gluten, corn, soy, or wheat. It contains no sugar, starch, salt, preservatives, or artificial color, flavor, or fragrances.

Supplement Facts
Serving Size: 5 drops (1ml)
Amount Per
Serving % Daily
Value*
NADP
Colloidal Silica
Colloidal Silver
50-60 ppm
75 ppm
15 ppm
+
+
+
*Percent Daily Value are based on a 2,000 calorie diet
+Daily Value not established


Other Ingredients: De-mineralized water
.
* These statements have not been evaluated by the Food and Drug Administration. This product is not intended to diagnose, treat, cure, or prevent any disease. Consult your licensed physician or medical practitioner before

 

using any products, especially if you are taking any drugs or if you are pregnant or nursing. Protect from heat and light. Store out of reach of children.
Testimonials
.

 "
I use PH Miracle Cell Power
. Nearly every morning I put 1 drop each in my eyes. My eyesight improved tremendously. With my 80 years I have a 20/20 vision now and don't need my glasses anymore, not even with small prints. It works well for me." -- Angelika G.