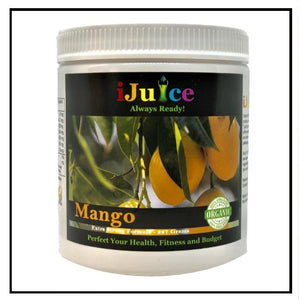 iJuice Mango
iJuice Mango Health Benefits & Nutritional Breakdown
The mango is a member of the drupe family, a type of plant food in which an outer fleshy part surrounds a shell (what we sometimes call a pit) with a seed inside. Olives, dates and coconuts are also types of drupes.
There are many different kinds of mangoes that range in color, shape, flavor and seed size. While the skin color of mangoes can vary from green to red, yellow or orange, the inner flesh of the mango is mostly a golden yellow. They have a sweet and creamy taste and contain over 20 vitamins and minerals.
Mangoes have been named the most widely consumed fruit in the world. Some of the possible health benefits of consuming iJuice Mango include a decreased risk of macular degeneration, a decreased risk of colon cancer, improvement in digestion and bone health and even benefits for the skin and hair.
Possible Health Benefits of iJuice Mango
Mangoes have been named the most widely consumed fruit in the world.
Consuming fruit and vegetables of all kinds has long been associated with a reduced risk of many lifestyle-related health conditions.
Many studies have suggested that increasing consumption of plant foods like mango decreases the risk of obesity and overall mortality, diabetes, heart disease and promotes a healthy complexion and hair, increased energy, overall lower weight.
The antioxidant zeaxanthin, found in iJuice Mango, filters out harmful blue light rays and is thought to play a protective role in eye health and possibly wards off damage from macular degeneration.
A higher intake of all fruit (3 or more servings per day) has also been shown to decrease risk of and progression of age-related macular degeneration.
Asthma Prevention
The risks for developing asthma are lower in people who consume a high amount of certain nutrients. One of these nutrients is beta-carotene, found in mango, papaya, apricot, broccoli, cantaloupe, pumpkin and carrot
.
Cancer
Diets rich in beta-carotene may also play a protective role against prostate cancer, according to a study conducted by the Harvard School of Public Health's Department of Nutrition and has been shown to have an inverse association with the development of colon cancer in the Japanese population.
In a study conducted by Texas AgriLife Research food scientists who tested mango polyphenol extracts in vitro on colon, breast, lung, leukemia and prostate cancers, mango was shown to have some impact on all cancers tested but were most effective with breast and colon cancers. The researchers are hoping to do a small clinical trial with individuals who have increased inflammation in their intestines with a higher risk for cancer for further proof for the efficacy of using mangoes in cancer prevention or treatment.
Bone Health
Low intakes of Vitamin K have been associated with a higher risk for bone fracture. Adequate Vitamin K consumption can be achieved by eating a proper intake of fruits and vegetables, and is important for improving calcium absorption essential for optimal bone health.
Diabetes
Studies have shown that type 1 diabetics who consume high-fiber diets have lower blood glucose levels and type 2 diabetics may have improved blood sugar, lipids and insulin levels. One cup of mango provides about 3 grams of fiber.
The Dietary Guidelines for Americans recommends 21-25 grams of fiber per day for women and 30-38 grams for men.
Digestion
Mango is helpful in digestion because of their fiber and water content, help to prevent constipation and promote regularity and a healthy digestive tract.
Heart Disease
The fiber, potassium and vitamin content in mango all help to ward off heart disease. An increase in potassium intake along with a decrease in sodium intake is the most important dietary change that a person can make to reduce their risk of cardiovascular disease.
Skin and Hair
Mango is also great for your hair because they contain Vitamin A, a nutrient required for sebum production that keeps hair moisturized. Vitamin A is also necessary for the growth of all bodily tissues, including skin and hair.
Adequate intake of Vitamin C by drinking one glass of iJuice Mango per day can provide and is needed for the building and maintaining collagen, which provides structure to skin and hair.
iJuice Mango Nutrition
Three grams of iJuice Mango contains 54 calories, 1 gram protein, 0.5 grams fat, 1.5 grams of carbohydrate (0.6 grams of fructose and 0.9 grams of fiber), 100% of the daily need for vitamin C, 35% for vitamin A, 20% of folate, 10% of vitamin B-6 and 8% of vitamin K and potassium.
iJuice Mango also contribute copper, calcium and iron to the diet as well as antioxidants such as zeaxanthin and beta-carotene.
References:
[1] Fruits of Summer, Nutrition 411, Last reviewed May 2012, Accessed 18 April 2014. 
[2] Mango Nutrition, Mango.org, Accessed 21 April 2014. 
[3] The role of the carotenoids, lutein and zeaxanthin, in protecting against age-related macular degeneration: A review based on controversial evidence, Maneli Mozaffarieh, Stefan Sacu and Andreas Wedrich, Nutrition Journal 2003, 2:20, Accessed 9 April 2014. 
[4] Inverse associations between serum concentrations of zeaxanthin and other carotenoids and colorectal neoplasm in Japanese, Okuyama Y, Ozasa K, Oki K, Nishino H, Fujimoto S, Watanabe Y, Int J Clin Oncol, 5 Feb 2013, Abstract, Accessed 13 December 2013. 
[5] Plasma and dietary carotenoids, and the risk of prostate cancer: a nested case-control study, Wu K, Erdman JW Jr, Schwartz SJ, Platz EA, Leitzmann M, Clinton SK, DeGroff V, Willett WC, Giovannucci, E. Cancer Epidemiol Biomarkers Prev, 2004 Feb;13(2):260-9, Abstract, Accessed 13 December 2013.
.
* These statements have not been evaluated by the Food and Drug Administration. This product is not intended to diagnose, treat, cure, or prevent any disease. Consult your licensed physician or medical practitioner before

 

using any products, especially if you are taking any drugs or if you are pregnant or nursing. Protect from heat and light. Store out of reach of children.
I​f you are tired of juicing and clean-up afterward, if juicing is very time consuming, if organic grasses, sprouts, fruit and vegetables are too expensive, we present iJuice - the most concentrated package of fruit and vegetable juice powders on the market, EVER!
Our organic iJuice powders are derived from real vegetables, grasses, fruits and berries and give you real, delicious and refreshing juice, packed with vitamins, minerals and antioxidants.

iJuice is also wonderful for cooking, baking, sauces, smoothies or just stirring a little with purified or alkaline water for a delicious glass of refreshing juice.
All of our products are Organic, Vegan, Gluten Free, Non-GMO and Do Not contain dairy, preservatives, additives, artificial colors, flavors, fillers, added sugars or artificial sweeteners.
With so many different varieties of juices, we guarantee that you will find a flavor to love and enjoy!
.
.