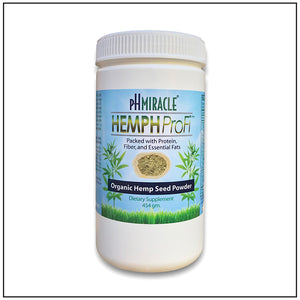 pH Miracle® Hemph ProFi (protein)
Packed With Omega 3 & 6 Essential Fats

pH Miracle Hemph ProFi is a 100% organic powder made from hemp seeds.

Suggested Use:
1-2 servings daily, alone or mixed in other food or drink.  

Hemp ProFi is protein-packed with all 10 essential amino acids, full of fiber, and abundant in healthy Omega 3 and 6  essential fats. 

The hearty, nutty flavor is tasty enough to eat alone, or as a perfect compliment to mix in a healthy shake, juice, or green drink.

Hemp ProFi contains no yeast, dairy, egg, gluten, corn, soy, wheat, salt, preservatives, or artificial flavor, color, or fragrance.  

Store in a cool, dry environment: 59-86 degrees Fahrenheit.
* These statements have not been evaluated by the Food and Drug Administration. This product is not intended to diagnose, treat, cure, or prevent any disease. Consult your licensed physician or medical practitioner before

 

using any products, especially if you are taking any drugs or if you are pregnant or nursing. Protect from heat and light. Store out of reach of children.
*
TESTIMONIALS

"I'm a big fan of PH Miracle Hemp ProFi. The most important thing to me is how it makes me feel. After I drink hemp shakes (hemp, avocado, almond milk, spinach, cucumber) I feel great." -- Mike R.

 "I live in remote area and have no access to stores all the time so I order my smoothie ingrediencies online. I love iJuice Supergreens, iJuice Cucumber, iJuice Avocado, iJuice Banana and PH Miracle Hemph ProFi for my morning Smoothies with Almond Milk. Thank you for your education and products" -- Lili M.

"Recently you referred me to get buckwheat and hemp protein in my diet, as I just went vegetarian, both helped me very well, thank  you. I am glad to reach the ph recommended daily, using bicarbonates." -- William M. M.

 "I add Acai juice powder with blueberries and pH Miracle Hemph ProFi Protein to make an excellent morning smoothie. It provides antioxidants, vitamins and protein to start my day." -- Bob M.
____________