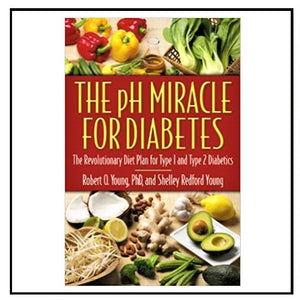 The pH Miracle For Diabetes
Overview Of The Cycle of Balance & Imbalance
Easy Layout For Quick Reference
Tips For Letting Food Be Your Medicine
Ideas For Diabetes Prevention


Dr Robert O. Young has a strong opinions & beliefs about diabetes. This book is a "must read" for those who want an alternative view on this topic.

Discover strategies for the prevention, the cause, the treatment, and the possible reversal of diabetes.

If you have diabetes or know of someone with diabetes you will NOT want to miss reading the pH Miracle for Diabetes. This book will change your understanding of diabetes and will change your life forever. It will empower you to take charge of your health and to prevent or potentially reverse this challenge.

The pH Miracle for diabetes is for people who are serious about natural healing and creating freedom in their lives from all sickness and dis-ease. 

If you're someone who wants an alternative view on the topic of diabetes, this is a must read.

Get Dr. Young's pH Miracle for Diabetes today

NOTE: THE INFORMATION IN THIS BOOK IS NOT A GUARANTEE OF SPECIFIC RESULTS & RESULTS CAN VARY FROM PERSON TO PERSON.
______________
Testimonials

 "I purchased your book The PH Miracle for Diabetes. Very NICE book. --Daniel A. B."