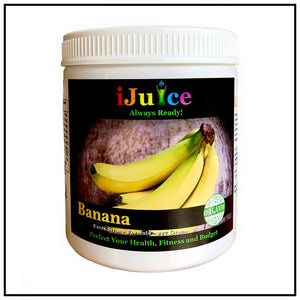 iJuice Banana
Ten Amazing Benefits of iJuice Banana Health & Fitness Juice
Ahead are 10 iJuice Banana juice health benefits for better health and to improve the way you look and feel. I can surely say that you'll never look at a banana the same way again after discovering the many health benefits and reasons to add them to your diet.
1) Vitamins:
iJuice Banana is rich in vitamins such as B3, B5, B6 and vitamin C. Due to the presence of these vitamins, drinking banana juice increases the immunity in the body. These vitamins also aid various benefits to the nervous system.
2) Rich in fibers:
iJuice Banana is rich in fiber that increases the digestion of the food particles in the digestive track of the body. A single banana is said to contain 10% of dietary fiber in it.
3) Rich in magnesium and potassium:
iJuice Bananas are also rich in minerals such as magnesium and potassium. Magnesium increases the process of calcium absorption in the body and also increases the production of insulin. The potassium present in banana reduces the hypertension.
4) Better Digestion:
As bananas contain high fiber they help in the movement of the food in the digestive track which contributes to better digestion. Fibers also have the capacity to absorb water this softens the stool and prevents constipation.
5)  Best Diet Supplements:
iJuice Banana juice is considered an excellent diet supplement as it is rich in fiber, potassium, manganese and various vitamins. Banana juice plays an important role in a diet program, it can be used for both weight loss and weight gain by the different ways of preparation. It can also be called as a "perfect fiber supplement" due to its rich fiber content.
6. Stress Regulator:
iJuice Banana juice is rich in tryptophan which stimulates the body in production of serotonin which in turn is responsible to calm down a person's mood. Drinking banana juice regularly can calm down the nerves system of a person undergoing stress.
7. Energizer:
iJuice Banana contains three natural sugars such as glucose, fructose and glucose. These sugars can provide an instant boost in the energy level. Consuming two full bananas can provide you enough energy before a 90 minutes work out this is the reason why athletes prefer to have banana before their athletic practices or before running a race.
8. Brain Power:
Researchers have proved that consuming banana for breakfast by young ones can boost up their memory power. The reason for this is the potassium present in banana alerts the pupil which is related to the grasping power of the brain.
9. Rich in Antioxidants:
iJuice Banana juice is a rich source of antioxidants that helps to prevent chronic disorder by producing more free radicals in the body. Also, being rich in potassium it aids heart health.
10. Other Benefits of iJuice Banana Juice:
Consuming banana juice regularly can aid to various heart health like curing of stomach ulcer and reducing the side effects of smoking as banana has a greater healing power. 
Here are simple steps of how to prepare a delicious iJuice Banana juice:
Ingredients: 3 to 4 grams or servings of iJuice Bananas, 3 to 4 grams or servings of iJuice Almond Milk, 3 to 4 grams or servings of iJuice Coconut
Add 120 ml of alkaline or purified water, 2 chopped bananas and 3 to 4 grams or servings of iJuice Almond and iJuice Coconut
Blend these ingredients for 45 to 60 secs.
Add a drop of vanilla essence or cardamom to this mixture while blending for better taste.
This iJuice Banana Juice can be served as a breakfast or an energy drink before exercise.
.
* These statements have not been evaluated by the Food and Drug Administration. This product is not intended to diagnose, treat, cure, or prevent any disease. Consult your licensed physician or medical practitioner before

 

using any products, especially if you are taking any drugs or if you are pregnant or nursing. Protect from heat and light. Store out of reach of children.
I​f you are tired of juicing and clean-up afterward, if juicing is very time consuming, if organic grasses, sprouts, fruit and vegetables are too expensive, we present iJuice - the most concentrated package of fruit and vegetable juice powders on the market, EVER!
Our organic iJuice powders are derived from real vegetables, grasses, fruits and berries and give you real, delicious and refreshing juice, packed with vitamins, minerals and antioxidants.

iJuice is also wonderful for cooking, baking, sauces, smoothies or just stirring a little with purified or alkaline water for a delicious glass of refreshing juice.
All of our products are Organic, Vegan, Gluten Free, Non-GMO and Do Not contain dairy, preservatives, additives, artificial colors, flavors, fillers, added sugars or artificial sweeteners.
With so many different varieties of juices, we guarantee that you will find a flavor to love and enjoy!
.
.
TESTIMONIALS

"I love using this iJuice Banana product in Smoothies. It has an awesome flavor and adds so much texture to anything you blend it with. For me, it is so much better and convenient than trying to keep fresh bananas around. I will be buying more of this as it makes any smoothie better." -- Conni M.

 "I live in remote area and have no access to stores all the time so I order my smoothie ingrediencies online. I love iJuice Supergreens, iJuice Cucumber, iJuice Avocado, iJuice Banana and PH Miracle Hemph ProFi for my morning Smoothies with Almond Milk. Thank you for your education and products" -- Lili M.

 "iJuice Banana is my new favorite addition to my smoothies! I cant wait to use it for cooking. I've been buying bananas and throwing them away, would go bad before I could use them. I tried freezing them. This is the answer. Wonderful product. I will be buying more flavors." -- Mary G.
____________