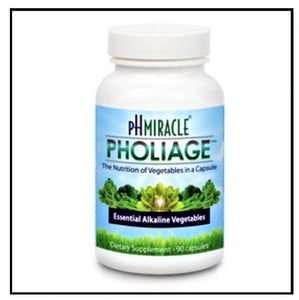 pH Miracle®(Foliage) by pH Miracle
Description: Young pHorever pHolage is a combination of the best antioxidant vegetables. Just a few capsules a day can give the body a substantial supply of the nutrients that green veggies can provide—chlorophyll, antioxidants, and alkalizing phytonutrients. Vegetables included in the 500mg capsules:

1) Broccoli
2) Kale
3) Collard Green
4) Okra
5) Parsley
6) Mustard Greens
7) Green cabbage
8) Chives
9) Leeks
10) Spinach
11) Celery

Suggested dosage for Young pHorever pHolage: Take 1 capsule 3 times a day. One bottle will last 30 days.
.
* These statements have not been evaluated by the Food and Drug Administration. This product is not intended to diagnose, treat, cure, or prevent any disease. Consult your licensed physician or medical practitioner before

 

using any products, especially if you are taking any drugs or if you are pregnant or nursing. Protect from heat and light. Store out of reach of children.