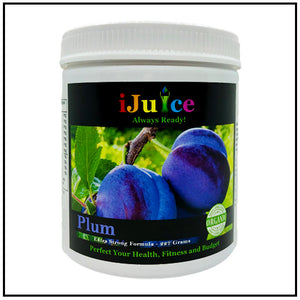 iJuice Plum
10 Amazing Nutritional Benefits of Plums
Plum is yumm!! These are really delicious fruit. The color itself is mesmerizing. If you want your cheeks (especially for all the girls) glowing like a plum then you must eat plum. They help imparting freshness to your skin. They have soft and smooth skin. And if you want a peaceful tummy and want to get rid of its tantrums, plums can even be a friend in such situations because it stimulates the bowel movement.
Plums are actually native in China, America, Europe and the Kaukasus.  It comes in different seasons with different varieties, size and color. Plums are also available in the market in dried state. Fresh ripe plums glaze for its dusty white outer layer which is easily erased just by washing these in water. The juicy part is very sweet giving a perfect delighting taste while eating. It is drupe shaped in structure with a flattish pointed stone. The fresh plums contain a hard stone type inedible seed and it is surrounded by the sweet juicy pulp which may be yellow, crimson, light blue or light green color and with a wonderful taste. Lets know about the nutritional benefits of plums
Nutritional Benefits of Plums:
1. Plums are full of antioxidants which are full beneficial for the body. Beta carotenes are also available in plums. These compounds are the substances that protect you from different types of cancers like lung and oral cavity cancers etc.
2. Another antioxidant known as Anththocyanins is present in the plums that make the fruit red color. It is also present in strawberries and other red colored berries. That is why plums have properties to prevent cell damaging.
3. One of the good nutritional benefits of plums is that it helps in digestion of food as it is enriched with dietary fiber. These fruits also contain Sorbitol and Isatin. Together all these compounds regulate the digestive system so that your body gets the ability to eat different foods. This helps against constipation.
4. iJuice Plums also contain essential vitamins and minerals. It gives you the overall intake of the daily consuming percentage of dietary fiber with many vitamins, minerals and phenolic compounds.
5. iJuice Plums nutrition facts contain minerals like potassium and iron which are required for red blood cell formation. So this makes the heart rate moderate and checks blood pressure. That is why the nutritional benefits of plums provides you a healthy heart.
6. Vitamin A is most essential for healthy eye and good vision. It keeps mucus membrane healthy. One of the important dietary fiber known as zea xanthin is best for your retina. It protects eye from harmful UV light.
7. The poly phenolic antioxidant compounds like lutein, cryptoxanthin and zea xanthin decreases the amount of harmful oxygen derived free radicals. It protects body from ROS compounds which create diseases and aging effects to the body.
8. iJuice Plums also contain different vitamin B complex compounds like niacin, vitamin B6 and phenolic acid compounds that break the carbohydrates, proteins and fats molecules and metabolize them.
9. iJuice Plums also contain vitamin K which opposes unnecessary blood clotting all around the body. So this maintains good blood pressure by which heart rate stays constant. The nutritional benefits of plums are also helpful in bone metabolism and protects you from bone diseases caused due to aging.
10.  The nutrition facts of iJuice Plum also includes large amount of antioxidant content like vitamin C which protects the body from infectious elements. Plums also possess anti-inflammatory properties and other benefits for your body as well.
.
* These statements have not been evaluated by the Food and Drug Administration. This product is not intended to diagnose, treat, cure, or prevent any disease. Consult your licensed physician or medical practitioner before

 

using any products, especially if you are taking any drugs or if you are pregnant or nursing. Protect from heat and light. Store out of reach of children.
I​f you are tired of juicing and clean-up afterward, if juicing is very time consuming, if organic grasses, sprouts, fruit and vegetables are too expensive, we present iJuice - the most concentrated package of fruit and vegetable juice powders on the market, EVER!
Our organic iJuice powders are derived from real vegetables, grasses, fruits and berries and give you real, delicious and refreshing juice, packed with vitamins, minerals and antioxidants.

iJuice is also wonderful for cooking, baking, sauces, smoothies or just stirring a little with purified or alkaline water for a delicious glass of refreshing juice.
All of our products are Organic, Vegan, Gluten Free, Non-GMO and Do Not contain dairy, preservatives, additives, artificial colors, flavors, fillers, added sugars or artificial sweeteners.
With so many different varieties of juices, we guarantee that you will find a flavor to love and enjoy!
.
.