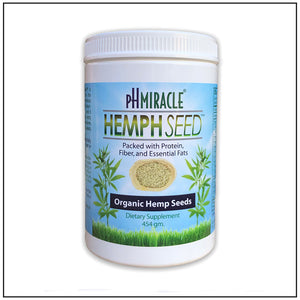 pH Miracle®
Hemph Seeds
Natural Shelled Hemp Seeds
Get A Whole-Food Energy Boost

HempH Seeds (hemp seeds) by pH Miracle

Raw Natural Shelled Hemp Seeds 454 gm

Its hearty, nutty flavor is tasty enough to eat by itself, or it can be as a condiment or topping for soups, salads, and other food. Enjoy!

pH Miracle HempH Seeds are natural, whole sprouted hemp seeds packed full of nutrition. Some believe hemp seeds are one of nature's most perfect foods, and in many ways they are right. 

For optimum health, our bodies require essential fats, protein, vitamins and minerals to function optimally. Hemp seeds deliver just that—well-rounded nutrition. With 10 Essential Amino Acids—the building blocks of protein—naturally-balanced Omega-3 and Omega-6 Essential Fatty Acids (EFA), as well as magnesium, iron, potassium, fiber and phytonutrients, plus natural antioxidants like vitamin E, hemp seeds pack quit the nutritional punch.

Too many of us miss out on the good fats like the polyunsaturated fats that you find in hemp seeds. They contain a naturally balanced ratio of Omega-3 and Omega-6 Essential Fatty Acids. These nutrients are termed 'essential' because our bodies require them to function - but since the human body cannot produce them, we must get EFAs from the foods we eat, or from supplements. 

EFAs are crucial for energy production, brain function, skin health, and digestive efficiency. The EFA qualities of hemp seed would alone make it worth eating, but it's nutritional value doesn't stop there.

In addition to good oils, hemp seeds are one of the plant kingdom's best known sources of easily digestible, high-quality protein. In fact, 65% of the protein found in hemp seed is high-quality edestin, making it the highest vegan source of this simple protein that's required for proper immune system function. The other 35% is albumin protein which is vitally important to the health and well being of the human organism. 

With live enzymes intact, hemp's digestible proteins are easily assimilated into the body. So adding HempH Seeds to any meal will give you a valuable whole-food energy boost.

However, the good nutrition news doesn't stop there. Hemp seeds are an excellent source of natural plant fiber as well as fifteen essential vitamins and minerals.

Ingredients: 100% raw natural shelled hemp seed. No additives or preservatives. NON GMO. 
* These statements have not been evaluated by the Food and Drug Administration. This product is not intended to diagnose, treat, cure, or prevent any disease. Consult your licensed physician or medical practitioner before

 

using any products, especially if you are taking any drugs or if you are pregnant or nursing. Protect from heat and light. Store out of reach of children.