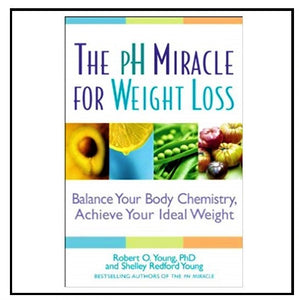 The pH Miracle For Weight Loss
Robert O. Young PhD
Easy Layout For Quick Reference
Learn Importance of Chlorophyll, Alkaline Water, Salts & Essential Oils
.
If you're looking for a diet that is very easy to follow with a layout that is easy for quick reference, get The pH miracle for Weight Loss book. 
Forget counting calories, fat grams or carbohydrates and learn a new way to achieve the weight loss goals you're looking for. The single most important health measurement is the pH of your body. This book shows you how discover the secrets to weight loss.
Follow the seven-step lifestyle program put together by Dr. Young 
The book talks about chlorophyll from green vegetables, alkaline water, mineral salts and essential oils. There is also great information on cleansing, exercising and many many recipes that are considered alkaline and taste great.
From the science behind the plan to the dietary do's and don'ts (along with recipes), a detailed exercise plan, and dozens of dramatic real-life before-and-after photos, this program lays the groundwork for long-term success.
Get Dr. Young's pH Miracle for Weight Loss today!