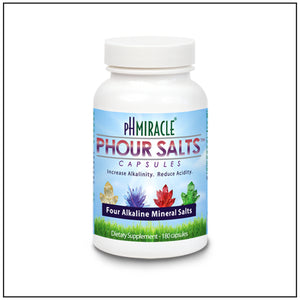 pH Miracle® pHour
Salts Capsules
Maintain The Alkaline Integrity Of Your Cells, Organs, & Body
Great For The Digestive Tract
180 capsules
1 capsule = 1.25 grams
.

Directions: 1 to 2 capsules with each meal.
Take 4 capsules daily. Advanced Use: 4 capsules, 3 times per day.

With a combination of four powerful carbonate salts, pHour Salts by pH Miracle is designed to help you maintain the alkaline integrity of your cells, organs, and body.

pHour Salts is a combination of four powerful salts (sodium bicarbonate, magnesium chloride, potassium bicarbonate, and calcium carbonate) that help maintain the alkaline design of human, plant, and animal organisms. These salts are naturally occurring in all fluids of the body. Specifically, they can aid in the reduction of acidity in the lymphatic, circulatory, and gastro-intestinal systems.

pHour Salts may be used daily to increase the alkalinity of any food or drink. Other uses include baking, tooth scrub, mouth wash, deodorizer, bath soak, and foot bath.

Your daily values may differ depending on your caloric needs.
.
* These statements have not been evaluated by the Food and Drug Administration. This product is not intended to diagnose, treat, cure, or prevent any disease. Consult your licensed physician or medical practitioner before

 

using any products, especially if you are taking any drugs or if you are pregnant or nursing. Protect from heat and light. Store out of reach of children.
Testimonials
.

 "I've been using Super Greens and Phour Salts for over 15 years. Never found a better substitute. -- Charlotte L. C."

 "I am taking 4 salts now for a week and switched to your alkalarian diet since. - Margaret G."

 "I love your pH Miracle® pHour Salts Powder product and use it ever day and just it under 2 week send my PH go higher. I found it nice to use it after lunch or dinner to offset the food. I also use it when I am biking. Usually first thing in morning. It is also a good way to let others try it." --   Stewart H.

 "I tried Phour Salts through the advice of a friend and couldn't be happier with the results. It is extremely useful to avoid muscle soreness & cramping after rigorous exercise. This is a multi-purpose product; it is also great as a skin toner- if you're into that! Will buy again. -- Joseph"



"Excellent for instant cure to reflux. I keep this on hand for when it flares up. It relieves it immediately. -- Susan S."


 "I've been using pHour Salts product consistently now for about a decade. I never want to run out. I take about 2-3 tsp a day - one of them just before bed. It helps me sleep at night, keeps my ph balanced, and seems to help my kidneys and bladder. If I run out, my kidneys start hurting and I can't hold my urine like I can when taking this product. so grateful. I tried plain baking soda and nowhere near as healing for me. -- Vivianne"

 "I found that Phour Salts will immediately alkalize my body, balance PH, and help hydration after having a bit to much to drink. This stuff is like a high quality electrolyte as well. When I drink a bit too much alcohol and wake in the night thirsty and only drink water, I just pee it out again. Drinking Phour Salts immediately quenches my thirst, and slows my heart rate (due to hydration), relieves my headache. All my friends have been buying it as well. Truly an amazing discovery!!! -- Ez"

 "Some of my favorites are I juice Super Chlorophyll, 4 salts, PHlavor spray salts and the Activated Charcoal! These products along with applying Dr Young's New Biology have helped me lose 110 lbs and maintain vibrant health these past 9 years. The PHMIRACLE Book is my bible in Biology! DETOX, REBUILD & RENEW! Dr. Robert O. Young, you are a great blessing to the world! Thank you again! I continue to share your knowledge, in helping one at the time. – Donna G. T."

 "Need to let you know I saw my MD yesterday and my labs were so wonderful I wondered if they were really mine….and I know the pH Salts are a great contribution to my health. Much gratitude to Dr. Young and you, his team." -- April Minkler 

 "I started taking PH Miracle Phour Salts again last week along with the number of other things. For the first time in my life, that I can remember my Alkaline levels have been above 7.5 pH or more. Thank you Jesus." -- Louis Ragghianti

 "I love the phour salts-the spots on my body diminished after one scoop!" -- Jackie W.

 "This product (pHour Salts) has been helping to regulate my headaches.) Thank you very much for your exceptional customer service! I have told a handful of people about your company and will continue to do so. Thank you for standing by your products. Have a lovely weekend! Much appreciation." -- Laura Roper

 "Wow, I tried the pH Miracle Phour salts this morning for the first time. I can literally feel the difference as I feel invigorated." -- Angela C.

 "Hello, I have been taking the Phour salts and they are great. I ordered 12 boxes from you and I'm about to order 10 more because it is so great it works for everyone and I am keep giving them out to friends and family here in the US. Thank you so much for making this available, this is a life saver, as I was on an alkaline diet but still had issues and the salts just made all my issues disappear. Thank you from the bottom of my heart." -- Julia F.

 "I really like pHour Salts product. I find I have 75% less migraines if I faithful." -- Aleta B.

 "My husband and I love your theory on salts and frequencies, we have both are big believers in the effects frequencies have on all life bodies and share your information with anyone that will hear it. Thank you for all your heard work and willingness to share it with whosoever has an ear. Much respect" -- Albert and Jeannie Johnson

 "I just wanted to tell you how much I love your Phour Salts. I can be feeling horrible with nausea and headaches and when I take Phour salts, I feel better within 10 minutes. It's such an amazing product. Thank you." -- Christi Smart (BS) R.T. (R)(MR)(CT)(M)