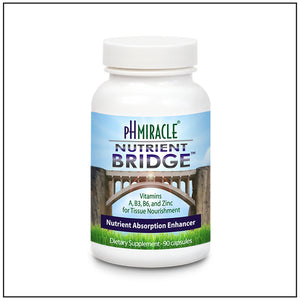 pH Miracle® 
Nutrient Bridge
8 Mineral Cell Salts | Helps Improve Circulation | Nourishes The Tissues

pH Miracle Nutrient Bridge
90 capsules

Nutrient Bridge is one of the unsung heroes of the pH Miracle line. With chelated zinc and mineral complex of vitamins A, B-3 (niacin), and B-6 (pyridoxine), Nutrient Bridge not only nourishes the tissues and enhances the absorption and effectiveness of all pH Miracle formulations, but it also has powerful benefits for the blood.

Nutrient Bridge improves circulation with the liberal amounts of B-3 (an effective vasodilator) and with zinc – which neutralizes the acids that cause the blood to stick together.  This teamwork helps the blood enter capillaries single-file – as they are supposed to. If the acid isn't neutralized and the blood is left to stick together, this can cause blood congestion which results in increased blood pressure, cold hands, cold feet, lightheadedness, muddled thinking and possibly dizziness.
 
Along with the mineral complex of vitamins, Nutrient Bridge boasts 8 mineral cell salts, and a special blend of echinacea, dandelion, red clover, chickweed, cayenne, althea, RNA and aloe.

About the ingredients:

Vitamin B-6 (pyridoxine) is required for the proper function of proteins, fats and sugars in the body. It is also required for the proper growth and development of the brain, nerves, skin, and many other parts of the body. 

Vitamin B-6 is also known to help reduce high cholesterol, boost the immune system and even help with symptoms of menopause. 

B-6 is also thought to fight heart disease by reducing homocysteine blood levels - a chemical that may be linked to heart disease.

Vitamin B-3 (niacin) has been shown in several studies to boost levels of good HDL cholesterol and lower triglycerides as well, or better than even some prescription drugs. Niacin has also been studies as a treatment to lower bad LDL cholesterol, help reduce atherosclerosis and lower the risk of Alzheimer's, cataracts, osteoarthritis and type 1 diabetes.

.
* These statements have not been evaluated by the Food and Drug Administration. This product is not intended to diagnose, treat, cure, or prevent any disease. Consult your licensed physician or medical practitioner before

 

using any products, especially if you are taking any drugs or if you are pregnant or nursing. Protect from heat and light. Store out of reach of children.