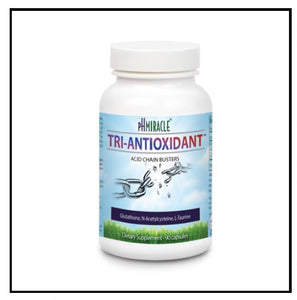 pH Miracle® Tri-Antioxidant
Protection Against Metabolic Acids

Tri-Antioxidant by pH Miracle
90 capsules

Suggest Use: 1 to 3 capsules daily, or as recommended by your health care professional. Best taken ½ hour to 1 hour before meals.

Each Capsule Contains: 200 mg of Glutathione, 200 mg of N-Acetyl-Cysteine and 100 mg of L-Taurine.

pH Miracle Tri-Antioxidant contains Glutathione and N-Acetyl-Cysteine which are both sulfur based amino acids and are powerful antioxidants or acid busters. L-Taurine acts as a building block of all the amino acids. It is a key component of bile, which is needed for alkalizing the food coming out of the stomach.

High concentrations of Glutathione, N-Acetyl-Cysteine and L-Taurine are found in every cell in the human body as a protection against metabolic acids. Higher concentrations are found in the heart, red and white blood cells, skeletal muscles and the cells of the central and peripheral nervous system.

Contains no yeast, dairy, egg, gluten, corn, or soy. Contains no processed sugar, starch, salt, preservatives, or artificial color, flavor or fragrance.
.
* These statements have not been evaluated by the Food and Drug Administration. This product is not intended to diagnose, treat, cure, or prevent any disease. Consult your licensed physician or medical practitioner before

 

using any products, especially if you are taking any drugs or if you are pregnant or nursing. Protect from heat and light. Store out of reach of children.