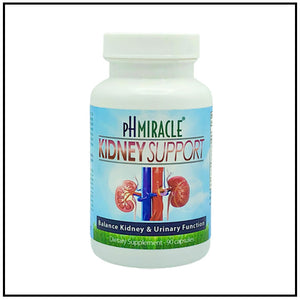 pH Miracle® Kidney Support
pH Miracle Kidney Support
90 capsules

Suggested Use:
Adults: 1-3 capsules with meals, 4-6 times/day

Children: 1 capsule with meals, 1-2 times a day

Description: pH Miracle Kidney Support is a unique formulation designed to optimize healthy kidney function. Specially processed kidney concentrates are synergistically combined with related nutrients to help increase the kidneys' ability to function more effectively. This original formulation by Dr. Young is perfect for helping to maintain healthy kidneys.

| | | |
| --- | --- | --- |
| Supplement Facts | | |
| Serving Size: 2 capsules | | |
| Servings per container: 45 | | |
| | Amount Per Serving | % Daily Value |
| Vitamin C | 28 mg | 47% |
| Kidney Support Proprietary Blend: Alfalfa (leaf), Parsley (leaf), Queen of the Meadow (aerial), Cornsilk (stamen), Uva Ursi (leaf), Kidney Substance, Junipers (berries), Dulce (plant), Cleavers (aerial), Buchu (leaf). | 496 mg | ** |
| Cell Salt Proprietary Blend: Sodium Chloride, Sodium Sulfide, Potassium Phosphate, Magnesium Phosphate.  | 8 mg | ** |
| *Percent daily values are based on a 2,000 calorie diet. **Daily Value not Established | | |


Other Ingredients:
vegetable cellulose, water