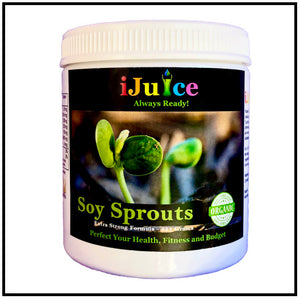 iJuice Soy Sprouts
Health Benefits of iJuice Sprouts
The health benefits of iJuice Sprouts make up quite an impressive list, and they include the ability to improve the digestive process, boost the metabolism, increase metabolic activity throughout the body, prevent anemia, help with weight loss, lower cholesterol, reduce blood pressure, prevent neural tube defects in infants, protect against cancer, boost skin health, improve vision, support the immune system, and increase usable energy reserves.
iJuice Sprouts may refer to a number of different vegetable or plant beans in the period of time after they begin to grow. The most common sprouts that people regularly use in their diet are soy, alfalfa, and broccoli sprouts, as well as various other types of bean sprouts. The reason that so many people turn to sprouts as a source of food is that they represent a much more significant amount of vitamins and nutrients than they do in an un-sprouted form. Typically, a week after sprouting, the sprouts will have the highest concentration and bioavailability of nutrients. Seeds and beans must contain a packed storehouse of all the important nutrients that a plant will need to grow in its initial days, so those tiny caps are filled with important organic compounds, vitamins, and minerals that our body can also utilize.
There are a number of different cultures that highly value sprouts as an essential element of their cuisine. Although sprouts can be cultivated anywhere that beans are grown (which is basically anywhere in the world), Asian nations seem to have adopted soy and bean sprouts as a topping for various dishes, as well as a common ingredient in salads more than most other countries in the world. They are readily available no matter what market you go to, however.
The important thing to remember is that much of the nutritive value of sprouts is lost when they are heated. In other words, although they are a very important source of nutrients and beneficial health boosts, they should always be added to meal in their raw form to guarantee that they have the most impact. Let's explore some of the components of iJuice Sprouts that make them such a powerful, yet overlooked, source of so many health benefits.
Nutritional Value of iJuice Sprouts
All of the nutritional and medicinal benefits of iJuice sprouts are derived from their impressive vitamin, mineral, and organic compounds content. Sprouts contain a significant amount of protein and dietary fiber, as well as vitamin K, folate, pantothenic acid, niacin, thiamin, vitamin C, vitamin A, and riboflavin. In terms of minerals, iJuice Sprouts contain manganese, copper, zinc, magnesium, iron, and calcium. Many of these component nutrients increase dramatically as the sprout continues to develop. Along with all of those components, sprouts are also a rich source of antioxidants that are essential for health. It is best to eat sprouts that first opened one or two weeks earlier. Now, let's explore some of the fascinating and vital health benefits of iJuice Soy Sprouts, iJuice Alfalfa Sprouts and iJuice Broccoli Sprouts hold for us!
Health Benefits of Sprouts
Digestion: One of the best things about sprouts is that they contain an unusually high number of enzymes. This can help boost the various metabolic processes and chemical reactions within the body, specifically when it comes to digestion. Enzymes are an important part of the digestive process, and they help to break down food effectively and increase the absorption of nutrients by the digestive tract. Furthermore, the dietary fiber found in sprouts makes it a very important boost for digestive functions.
Metabolic Booster: As was already mentioned, iJuice Sprouts contain a wealth of enzymes that usually aren't available through food. This major influx represents a kick start for the body, and can seriously impact the metabolic activity of your body. Beyond that, sprouts also contain a significant amount of protein, which is the essential part of food that allows our body to perform all of its chemical functions.
Anemia and Blood Circulation: Anemia is the technical word for an iron deficiency.This can result in fatigue, lack of concentration, nausea, light-headedness, and stomach disorders. By maintaining your red blood cell count with proper amounts of iron (and copper, which is also found in iJuice Sprouts), you can improve the circulation of blood in your body, thereby increasing the oxygenation of organ systems and cells to optimize their performance.
Weight Loss: iJuice Sprouts are one of those foods that are very high in nutrients but very low in calories. This means that you can eat sprouts without worrying about compromising your diet.
Heart Health: iJuice Sprouts are a great source of omega-3 fatty acids, and although these are technically a form of cholesterol, they are considered "good" cholesterol (HDL cholesterol) and can actually reduce the amount of harmful cholesterol in your blood vessels and arteries. Omega-3 fatty acids are also anti-inflammatory in nature, so they reduce the stress on your cardiovascular system in that was as well. The potassium content of sprouts also helps to reduce blood pressure, since potassium is a vasodilator, and can release the tension in arteries and blood vessels. This increases circulation and oxygenation, while reducing clotting and lowering the risk of atherosclerosis, heart attacks, and strokes.
Infant Health: Neural tube defects are one of the most common side effects of a deficiency in folate, a member of the B vitamin complex. iJuice Sprouts have a significant amount of folate, thereby protecting your infant from this tragic condition.
Immune System: The are a number of factors that make iJuice Sprouts a powerful booster for the immune system. Its vitamin-C content alone makes it a powerful stimulant for the white blood cells in the body to fight off infection and disease.
Cancer Prevention: The antioxidant activity of the organic compounds found in iJuice Sprouts make it a very good anti-cancer choice for your diet. The vitamin C, vitamin A, as well as amino acids and proteins (including the huge amount of enzymes) can also impact the free acids content in the body. Metabolic and dietary acids are the natural, dangerous byproducts of cellular metabolism that can cause healthy cells to mutate into cancerous cells. They are also responsible for some heart diseases, premature aging, cognitive decline, and a variety of age-related health concerns. iJuice Sprouts can counteract these effects, thereby helping to reduce the chances of developing cancer.
Vision and Eye Health: Vitamin A has been associated with an improvement in vision health for many years. It acts as an antioxidant agent to protect the eyes' cells from free acids. In this way, iJuice Sprouts can help prevent glaucoma, cataracts, and macular degeneration. In fact, vision can even improve in some cases, so eat your sprouts and start seeing the world a bit more clearly!
Cold Sores: Cold sores can be an unsightly, painful, and uncomfortable condition to suffer through. If they get infected, they can even become a serious health risk. There is a specific enzyme, called lysine, that actually inhibits the growth of cold sores and treats them if they do appear. This enzyme is conveniently found in significant amounts in iJuice Sprouts!
.
* These statements have not been evaluated by the Food and Drug Administration. This product is not intended to diagnose, treat, cure, or prevent any disease. Consult your licensed physician or medical practitioner before

 

using any products, especially if you are taking any drugs or if you are pregnant or nursing. Protect from heat and light. Store out of reach of children.
I​f you are tired of juicing and clean-up afterward, if juicing is very time consuming, if organic grasses, sprouts, fruit and vegetables are too expensive, we present iJuice - the most concentrated package of fruit and vegetable juice powders on the market, EVER!
Our organic iJuice powders are derived from real vegetables, grasses, fruits and berries and give you real, delicious and refreshing juice, packed with vitamins, minerals and antioxidants.

iJuice is also wonderful for cooking, baking, sauces, smoothies or just stirring a little with purified or alkaline water for a delicious glass of refreshing juice.
All of our products are Organic, Vegan, Gluten Free, Non-GMO and Do Not contain dairy, preservatives, additives, artificial colors, flavors, fillers, added sugars or artificial sweeteners.
With so many different varieties of juices, we guarantee that you will find a flavor to love and enjoy!
.
.